Cumberland equipment is built to be versatile and durable while being easy to maintain. Cumberland is the experts in infeed design and size reduction, ensuring a smooth reclamation process.
Feedrolls and granulators designed for in-line, off-line, or under-the-press granulation of thermoformed products.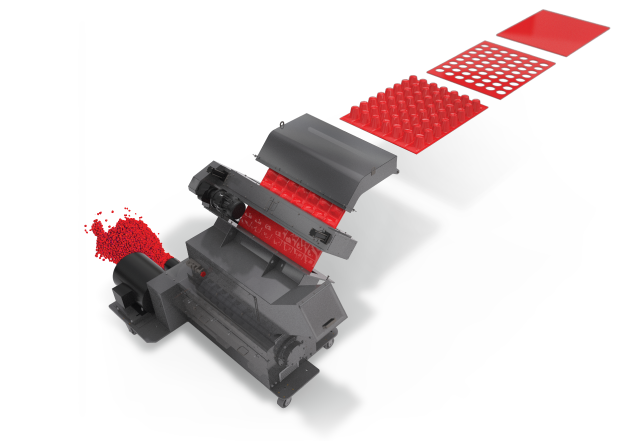 Feedrolls
Beginning with material feeding, Cumberland has designed flexible solutions that can fit any application. Feedrolls include the Edge, Versatile, and Crusher series.
Edge -narrow strips
Versatile -sheet, film, web
Crusher - draw form sheets (cups/containers)
These can handle products up to 62" inches wide and 12" inches tall at rates up to 13,000 lbs/hr.
Roll gap is easily adjusted using pneumatic cylinders. Each roll also has a durable machined end disc to protect roll surface and maintain the gap. Self-adjusting Deltrin strippers prevent material from wrapping around rolls. Feedrolls use a robust drive design for long life. They can also momentarily reverse direction to aid in clearing material jams. Additionally, by using micro poly filled bearings no additional lubrication is required.
Granulators
Cumberland's thermoforming granulators are made from rugged materials and are built to last. Each available with low-profile infeeds for under-the-press applications. Cleaning is simple with machined, bolted cutting chambers. And screens are accessed in drop-down cradles to allow for quick removal and maintenance.
Screens are available in 3/16 - 3/8 inch openings.
T Series - skeletal web (36 or 56-inch infeed)
U Series - flexible enough for any application (44, 56, or 74-inch infeed)
1400 Series - thermoformed sheet, web, edge trim (56 or 62-inch infeed)
Feedroll + Granulator
Cumberland can meet any need with their flexible granulator designs and feedroll options. Their experts have decades of experience helping customers with size reduction. Let Cumberland help you find the best solution for your application.
Find out more on our products page. Interested in discussing your needs? Contact Us.
---
Adams Engineers