Description
Bunting Magnetics offers Magnetic Cartridges (also called Rods or Tube Magnets) are engineered to achieve the optimum balance between reach-out and holding force. Cartridges can be mounted individually or in multiple-row arrays. Cartridge magnets are to be used in gravity free-fall magnetic separation applications. Grate Magnets provide economical magnetic protection against tramp iron in mechanical or gravity conveying and processing systems. They can remove ferrous fines, fragments, and larger metal objects from dry particulates, liquids, and slurries.
Magnetic Cartridges
Both standard and heavy-duty models are constructed of durable 304 stainless steel tubing and are available with a threaded hole, threaded rod, or plain sealed end plugs. 316 stainless steel is also available. End plugs are fully welded into the tough 1-inch diameter tubing for added durability.
General-Purpose Magnetic Cartridges
• Cera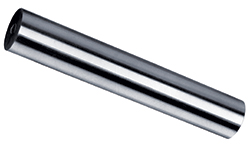 mic and High-Intensity Rare Earth magnets are available.
• Select tapped, sealed or studded ends.
• Standard 1″ round cartridges start at 4″ lengths.
Heavy-Duty Magnetic Cartridges
Designed for maximum metal removal and for use where high flow rates or bridging might be a problem or where structurally stronger cartridges are required.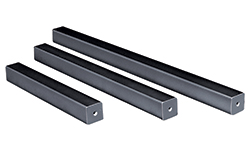 • Durable, heavier-gauge stainless steel tubing resists wear and lasts longer in demanding applications.
• High-Intensity Rare Earth magnets are standard.
• Heavy-duty 1 1/2″ square cartridges offer nearly two times the magnetic surface area of standard cartridges.
Neo Ultra High-Intensity Magnetic Cartridges
Completely redesigned from the ground up to address the processing challenges manufacturers face, the NUHI™ Cartridge means more power, a purer product, and better plant efficiency.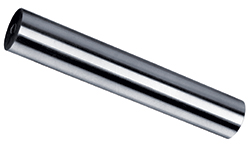 • Only available on Magnetic Separation products.
• Over 105oz of Pull Strength.
• 316 Stainless Steel Construction.
• Standard on all Food Grade Magnetic Separation Equipment.
• 14% stronger than our previous cartridge design.
Grate Magnets
Grates can be installed or simply laid inside hoppers, pits, chutes, housings, and bins, where they can be accessed for cleaning. Neodymium Rare Earth magnets are standard but Ceramic is also available, as well as the new NUHI™ Neo Ultra High-Intensity magnets. All finishes available including food, sanitary and USDA.
General-Purpose Grate Magnets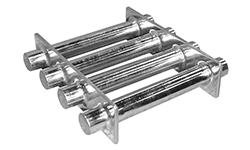 • Standard grate magnets use 1″ round cartridges.
• Round, square, and rectangular arrays come in many sizes.
• Standard sizes from 4 to 36 inches.
• 304 Stainless Steel is standard but 316 Stainless Steel is available for corrosive environments.
Heavy-Duty Grate Magnets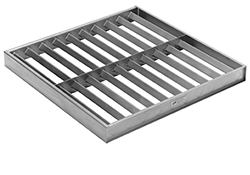 • 1 1/2″ square tubing made from 304 Stainless Steel welded to frame with rigid channel side members.
• Square and Rectangular styles available.
• From 12 inches to 60 inches on a side.
• Ruggedly built for demanding indoor/outdoor use.
• Great for handling high flow rates and hard-to-flow materials by minimizing bridging and product build-up.